By: Thea Franke, PhD
Images have been used throughout history as a way for people to express themselves and their needs. Humans have been drawn to this form of expression, from prehistoric cave paintings that feature big game animals to the explosion of photo-driven social media. Images captured through the photovoice research method reflect the realities that influence participants' lives, making this method a unique way to better understand people and their experiences.
What is Photovoice?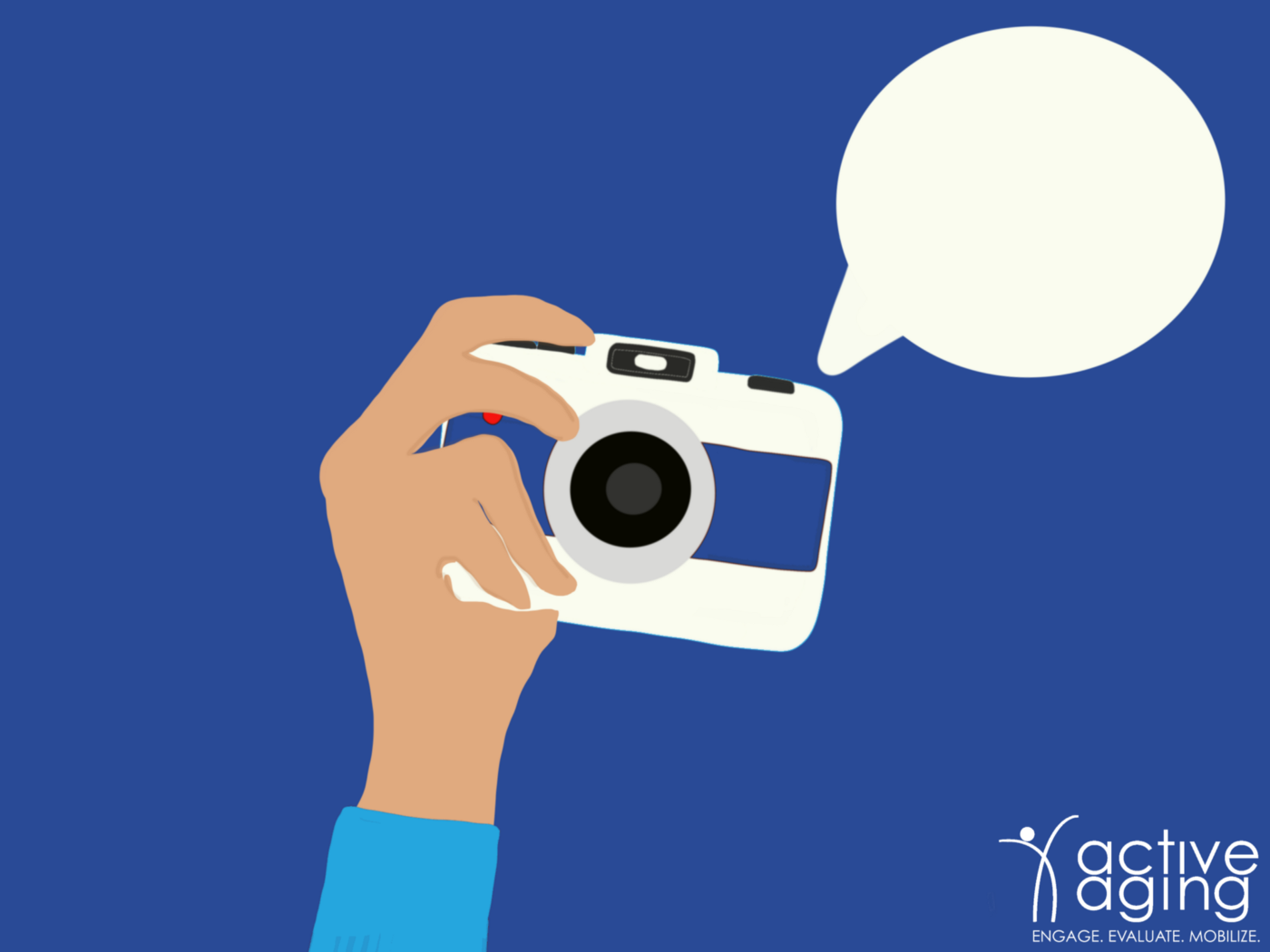 In the mid-1990s, Dr. Wang and colleagues[1] developed the photovoice method as a creative approach to participatory action research. Photovoice is a qualitative method in which participants express themselves and their communities by taking photographs that reflect research themes.
Photovoice can empower those most marginalized in our society, those whose voices are often not heard or included in decisions that affect them, such as community-based health promotion services. Photovoice can amplify the ideas and views of marginalized and oppressed groups. It may also be used to influence social policy and promote social action by involving individuals in the process of reflecting on their own reality and needs through research.
We conducted a photovoice study with older adults in rural BC. We wanted to understand what it means to be active in the community, both physically and socially, through their lens.
Overwhelmingly, older adults stressed the importance of social connectedness. Social connectedness was established by participating in activities that not only provided social contact, but also allowed them to talk and share thoughts, help them feel cared for, and supported, and created a sense of belonging. All of these factors worked together to champion motivation and participation in activities.
Here are expressions from some of our participants: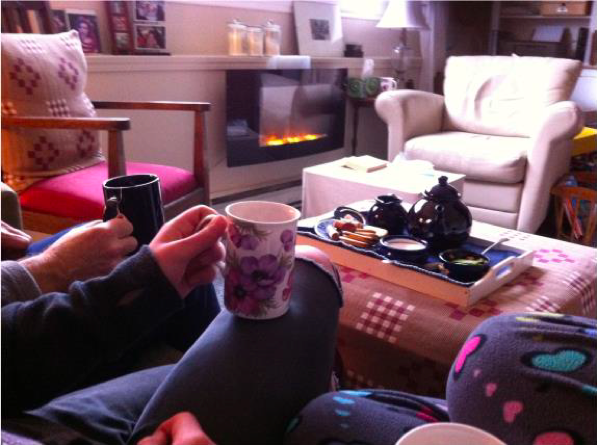 "It's [a community program] to do with getting seniors together, and we go to different places. We go to restaurants and the library, different activities that are taking place in [location]. And it's — it quite surprised me when I began it, how much I looked forward to it, because I had no real interaction with seniors before. I didn't think I needed it. But I find I look forward to it very much." (Nina)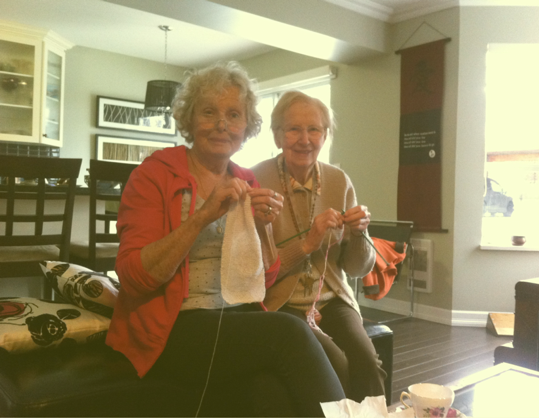 "To meet new people, to share thoughts, to share life experiences. This gets you out. Again, very important for us as seniors is to have a reason to get out. And when I get together with others I enjoy, we talk, 'What did you do?' … You've got somebody to phone. You've got somebody to say hello to. (Anne)
Through the camera lens, and speaking with the older adults, we learned the following lessons:
It is not only social contact that is sought but rather meaningful engagement with others to build relationships.
 Having opportunities to socially connect is essential to reduce isolation. However, it is critical to make these opportunities meaningful to reduce feelings of loneliness.
Finding ways to connect participants more 'meaningfully' (i.e., in ways that adhere to their needs and preferences) with one another could be one of the main goals of future community-based health promotion programs in the seniors' services sector.
 A connection with nature was critical, which speaks to the need for future community-based health promotion programming to also consider the needs and preferences that are contextually situated (e.g., rural settings vs. urban).
Help with transportation, in the form of a chartered bus, volunteer drivers, or subsidized bus tickets are important to remain independent and maintain physical and social activity.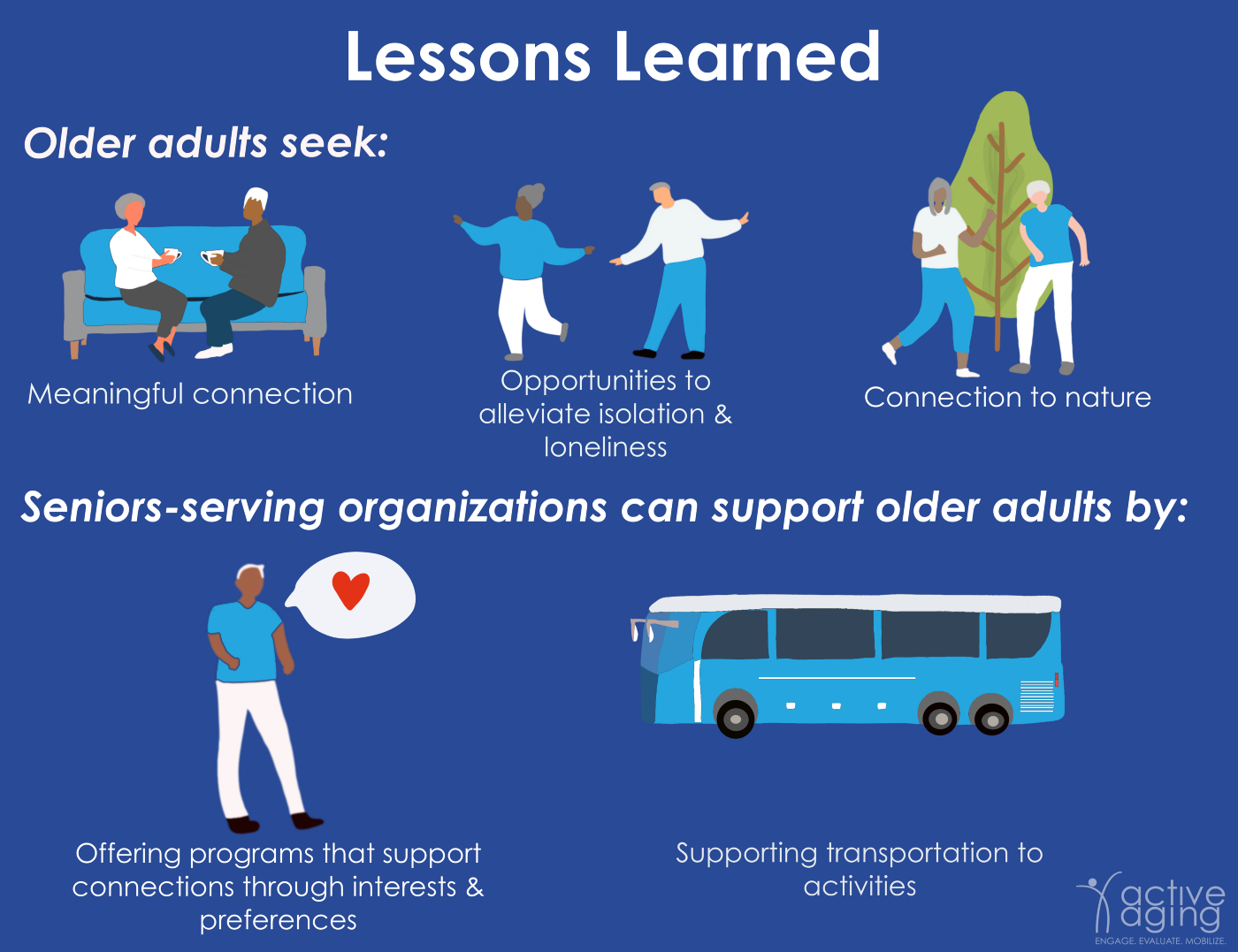 These findings will be used to address calls to develop health promotion interventions for older adults and conceptualize the components of the intervention that are responsive to participants, in specific settings (i.e., rural), and to their needs and preferences, all while enhancing opportunities for physical activity and social connectedness to support independence and mobility.
---
The information in this blog was published here:
Thea Franke, Joanie Sims-Gould, Sarah Lusina-Furst & Heather McKay (2020) "I Didn't Think I Needed It. But I Find I Look Forward to It Very Much": Social Connectedness and Physical Health through the Eyes of Older Adults, Activities, Adaptation & Aging, DOI: 10.1080/01924788.2020.1845586
References
1. Wang CC, Yi WK, Tao ZW, Carovano K. Photovoice as a participatory health promotion strategy. Heal Promot Int. 1998;13(1):75–86.