With an increasing population of older adults in Canada, we need to look at the factors that will enhance our quality of life as we age.
In about 20 years, 1 in 4 Canadians– a quarter of all people–will be 65 years old or older¹. Think about that. How will that shape your daily life? What changes must we, as a society, make to accommodate this demographic shift?
Familiar rhetoric about this demographic shift is negative. Chronic diseases, such as dementia, diabetes, COPD, and heart disease, are more common among older adults than younger cohorts. Strokes, falls leading to injury, and joint replacement booms are often-cited concerns as our population ages. We wonder, 'what is the cost for the increased care and treatment?' 'Will this create a burden to the health-care system?"
We rarely celebrate that so many of us are living longer lives– a credit to significant advances made in health care over the last century. We almost never talk about how to add life to those extra years we are living. What does it take to improve the quality of life, as we age, not just the number of birthdays we celebrate?
What does it take to improve the quality of life, as we age, not just the number of birthdays we celebrate?
Jennifer's story may hold a clue. Jennifer, like many older adults in British Columbia, faced a potentially-limiting health challenge, having suffered from a recent stroke. In an instant, she lost mobility, balance, and her ability to complete many activities of daily living. She lost confidence in herself.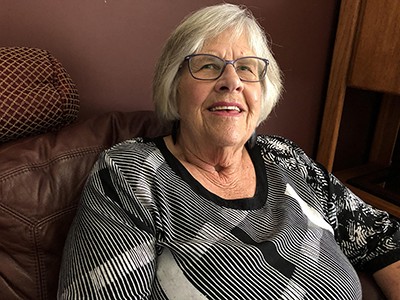 Jennifer found a lifeline. She joined 'The Active Aging Program,' offered by Mission Community Services Society, and her life changed. The purpose of the Active Aging Program is to increase the level of physical activity to improve social connectedness, increase independence, and improve well-being and enhance the quality of life for older adults. Active Aging programs, like Jennifer's, are running in communities across British Columbia and are a partnership initiative of the Active Aging Research Team at the University of British Columbia, and The United Way of Lower Mainland.
Cutting-edge research led by the Active Aging Research Team shows that access to local community centres are vital, as they enable older adults to establish and maintain physically active routines, all while helping to build social connections and retain independence². "We need to change how we communicate about older adult physical activity programs as the myriad benefits go well beyond physical health. Older adults of all abilities can participate and reap the benefits of getting out of the home and meeting other older adults in their communities. Socializing and spending time with friends is often an indirect way of being more active," adds Thea Franke, lead author on the paper.
It is not surprising that Jennifer saw a dramatic shift in her quality of life when she joined in the Active Aging Program in her community. By increasing her physical activity, Jennifer now feels more independent at home, she has made new friends at the classes, and she notices an improvement in all aspects of her daily living including being much more limber, improved balance, greater mobility at home, and confidence to go on walks around the block by herself. Jennifer has become more cheerful and confident when socializing with others. "You can really see the happiness in her face and tone when she is socializing with others," noted Raman N., the coordinator of the Active Aging Program.
The life-enhancing benefits of physical activity across the life-span, and as we age, are well-documented within the social and scientific literature. Physical activity is a key component for the management of many chronic diseases associated with aging. The literature demonstrates that physical activity is a critical component of well-being and quality of life for older adults. Physical Activity can contribute to social connectivity, autonomy and positive self-efficacy³. Meanwhile, many of us become less active and more disconnected as we age. Therefore, support for older adults to become more physically active is critical to curbing the 'societal burden' narrative around our aging population. The Active Aging Program in Mission, BC, and initiatives like it, are vital to support sustained health and quality of life among older Canadians. Strong investment in evidence-based physical activity initiatives is an innovative way to support the health and independence of Canada's aging population.
References:
[1]: Bohnert, N., Chagnon, J., & Dion, P. (2015). Population Projections for Canada (2013 to 2063), Provinces and Territories (2013 to 2038). Retrieved from https://www150.statcan.gc.ca/n1/en/pub/91-520-x/91-520-x2014001-eng.pdf?st=Fh6dY_RL
[2]: *Franke, T., Sims-Gould, J., Habib, C., Winters, M., & McKay, H. (2018). 'It makes your life worthwhile. It gives you a purpose in living': mobility experiences among active older adults with low income. Ageing and Society, 1–28. http://doi.org/10.1017/S0144686X18000181
*Literature from the Active Aging Research Team
[3] McAuley, E., Konopack , J.F., Motl, R.W., Morris, K.S. , Doerksen, S.E., Rosengren, K.R. Physical activity and quality of life in older adults: Influence of health status and self-efficacy. Annals of Behavioral Medicine, 31 (1) (2006), pp. 99–103. https://doi.org/10.1016/j.jaging.2013.09.003